In the Country Spotlight series, we focus on how human-led social listening can help businesses gain invaluable market-specific insights into consumer behaviour, cultural nuances and digital trends to identify and connect with local target audiences.
As the world's fifth-largest country in both land area and population, Brazil is a beacon of digital prowess in South America. The latest figures show that Brazil is home to over 200 million internet users, a clear indicator of the country's vibrant online community. The uptick in connectivity hasn't been mere coincidence – it's a by-product of improved infrastructure paired with the growing affordability of mobile gadgets. This combination places Brazil firmly on the map as one of the region's digital frontrunners.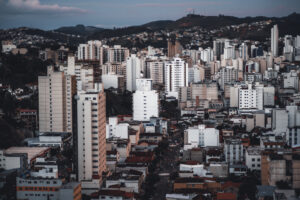 But diving into Brazil's digital world isn't just about getting to grips with sheer numbers – it's about forming a deep understanding of the habits and behaviours of the country's netizens. As avid social media users, Brazilians allocate a significant part of their digital day to interact and consumer content online through Facebook, WhatsApp, TikTok, and Instagram. Remarkably, they spend an average of 3.8 hours daily immersed in social media, significantly higher than the global average of 2.2 hours. Approximately two-thirds of Brazil's web traffic in 2021 originated from mobile devices, with over 150 million of the 152 million online Brazilians using mobile phones to access the internet.
How e-commerce is thriving in the country
But it's not just social platforms. E-commerce is thriving, with both local and global retailers catering to an enthusiastic online shopper base. Complementing this shopping surge is a wave of digital banking and cutting-edge FinTech solutions, reshaping how Brazilians navigate their financial waters. 
Brazil's digital domain is a vibrant mosaic of opportunities, cultural nuances, and innovative strides. In this post, we're zooming in on the e-commerce scene, unveiling the golden chances it holds, as well as the hurdles brands need to watch out for when aiming to dive deeper into this dynamic market.
Highly selective shopper base
Brazil is swiftly becoming the premier e-commerce hub of Latin America. With online sales surging, global brands are taking notice and strategising accordingly. However, Brazilian consumers are a discerning bunch. They're not only experienced online shoppers but also diligent researchers. Sites like buscape.com.br and superfrete.com are their go-tos to ensure they get the best value for money.
E-commerce marketplaces are also on the rise, becoming preferred shopping destinations. Heavyweights such as Amazon, Shopee, Magazine Luiza and Mercado Livre (keep reading for the success factors of the last two) are experiencing significant growth. A recent study showcased a noteworthy trend: in 2019, 41% of Brazilians shopped exclusively on marketplaces. By 2021, this surged to an impressive 71%, well above the global average increase. This spike, especially during the pandemic, underscores the appeal of these platforms. For brands eyeing the e-commerce landscape in Brazil, these marketplaces are indispensable.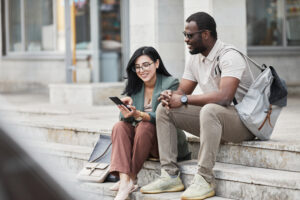 The role of social in Brazil's dynamic ecommerce ecosystem
But it's not just the usual e-commerce platforms making waves. Social media is playing an integral role in Brazil's digital shopping transformation. In 2022, over half of Brazilian shoppers scrolled through Instagram with shopping in mind. Google Shopping, Facebook, and even WhatsApp are joining the party, turning casual social media interactions into shopping opportunities. (Source)
For brands eyeing Brazil, this means it's not just about selling – it's about fostering meaningful connections. It comes down to understanding the vibrant Brazilian culture, the trends, and the unique shopping habits of the people. As such, brands need to go beyond managing a basic social media presence and create channel-appropriate and relevant content that truly resonates with Brazil's savvy netizens.
Local triumphs and success tales
Brands that master the intricate balance of launching digital campaigns aligned with the cultural, social and economic nuances of Brazil's diverse populace reap the rewards in the form of loyal consumer bases and sustained growth. Let's delve into a few shining examples of local brands that have seen success in the country, thanks to their ability to keenly listen to consumer needs and adapt swiftly to market changes.
Mercado Livre
Mercado Livre, often dubbed as the "eBay of Latin America", stands tall as one of Brazil's predominant e-commerce giants. This leading status is not merely coincidental but the result of meticulous strategies and offerings that resonate with the Brazilian populace. Foremost, its reputation for trustworthiness is hard-earned, offering both buyers and sellers a secure platform fortified with rigorous protections.
View this post on Instagram
To further its dominance, Mercado Livre has strategically expanded its ecosystem beyond just a marketplace. They've introduced services such as Mercado Pago, a reliable online payment system that streamlines transactions; Mercado Envios, a dedicated shipping service ensuring timely deliveries; and Mercado Crédito, a unique credit line offering that enables buyers to shop with more financial flexibility.
Recognising the digital landscape of Brazil, where a significant proportion of the populace accesses the internet via mobile devices, Mercado Livre has invested in a robust mobile app. This app isn't just functional – it's intuitive, enabling users to effortlessly shop, sell, and manage their accounts wherever they may be.
In the realm of marketing, Mercado Livre's approach is both holistic and tailored. They ensure a consistent brand narrative across myriad channels. Be it through television commercials, targeted online adverts, or engaging social media campaigns, they speak with one voice, one that's distinct in the crowded e-commerce space. Engaging their vast community, they're not just present but active on social platforms like Facebook and Twitter, fostering a sense of loyalty and engagement.
Moreover, by leveraging promotional events such as the "Hot Sale" and the much-anticipated "Black Friday," they've created a buzz that not only attracts new customers but also ensures existing ones are always excited about coming back. All these elements combined make Mercado Livre a force to reckon with in Brazil's e-commerce landscape.
Magazine Luiza (Magalu)
Magalu, originally a renowned Brazilian retail powerhouse, has skilfully navigated the digital transformation, carving a distinguished space in the e-commerce arena. Their journey online has been marked by an unwavering commitment to quality and service, ensuring their reputation for reliability seamlessly transitioned to their e-commerce platform.
View this post on Instagram
Beyond just selling products, Magalu has weaved an ecosystem around the consumer experience. Their proprietary payment solution, MagaluPay, offers users a hassle-free transaction experience, while their marketplace encourages third-party sellers to join the Magalu family, broadening product diversity.
The Magalu mobile app isn't just a virtual storefront. It's an all-encompassing digital companion. From effortless product browsing to real-time order tracking and access to exclusive promotions, the app is the epicentre of convenience. Further enhancing its usability is its seamless integration with MagaluPay, enabling users to swiftly move from product selection to purchase.
However, Magalu's true prowess lies in its knack for human connection. Instead of impersonal advertisements, they craft narratives that echo the aspirations and emotions of the Brazilian populace. Their multi-pronged marketing strategy is a masterclass in integration: blending the charm of traditional mediums like TV and print with the dynamism of the digital world. Their commanding online presence is bolstered by strategic collaborations with influencers and an engaging content-driven blog, fortifying their position not just as a retailer, but as a trusted resource.
But perhaps, the most novel feather in Magalu's cap is "Lu from Magalu." Not just a virtual influencer, she's become a digital sensation, further bridging the gap between the brand and the Brazilian netizens. Through Lu, Magalu doesn't just communicate; they connect, resonating with the contemporary Brazilian consumer like few others can.
iFood
iFood, dominating with a staggering 80% market share, is not merely a food delivery service in Brazil but an integral part of the nation's urban lifestyle. This enviable position is the result of numerous strategic and consumer-centric decisions taken over the years.
View this post on Instagram
At the heart of iFood's offering is its commitment to reliability. This isn't just about delivering food but delivering an experience – punctual, precise, and poised. The platform guarantees a plethora of dining options, from local delights to international cuisines, ensuring there's something for everyone. This vast choice range is supplemented with a streamlined payment process, with options encompassing credit/debit cards and contemporary digital wallets, catering to the diverse financial preferences of the Brazilian populace.
Central to iFood's colossal success is its impeccably designed mobile app. It doesn't merely serve as an ordering platform but is a comprehensive food companion. Users can effortlessly browse diverse menus, place orders, and enjoy the thrill of real-time delivery tracking. Enhancing this user experience is the app's integrated feedback system – detailed restaurant ratings and genuine reviews, empowering users to make choices they won't regret.
Moreover, iFood's marketing strategies are both savvy and specific. By harnessing geo-targeted advertising, they ensure their promotions aren't just seen, but resonate, with each delivered ad feeling like a personal recommendation based on the user's location. This pinpoint approach to marketing dovetails perfectly with the preferences of Brazilian consumers, a majority of whom utilise smartphones as their primary gateway to online services.
In a nation passionate about its food, iFood doesn't just deliver meals; it brings to the table a delightful concoction of choice, convenience, and credibility, making it an indisputable leader in Brazil's food delivery landscape.
Want to master the Brazilian digital landscape? Rely on Convosphere's prowess in glocal digital insights.
Tapping into Brazil's digital ecosystem is an exciting endeavour. From its booming e-commerce platforms to the digital intimacy of its social media, Brazil beckons with unparalleled opportunities. However, it's not merely about jumping in; success necessitates genuine cultural understanding, an ear to the ground, and tailored strategies that resonate with the dynamic market and the unique aspirations and behaviours of Brazilian consumers. As Brazil transforms, so should your game plan.
And that's where Convosphere steps in. We're not just data crunchers but a team of in-market experts with a native familiarity with the country's culture and digital landscape. We can dive deep into the nuances of the Brazilian market, grasping consumer habits, identifying unmet needs, and pinpointing ways to make your brand shine brighter than the rest. If Brazil is on your radar, team up with us. We'll ensure your brand doesn't merely join the bustling market but stands out from the crowd.
Want to master the Brazilian digital landscape and foster meaningful connections? Reach out to us today.