This week we're down to the last eight and there have been a fair few surprises along the way. In losing Portugal and Argentina, we waved bye-bye to two GOATs, Ronaldo and Messi respectively. Stepping into the limelight, at least for England fans, manager Gareth Southgate stole the heart of his nation, who are now hoping that nice guys finish first. Confusion reigned among many spectators who finally realised that Sweden and Switzerland are in fact not the same country, with the nation of flatpack furniture seeing off the watch experts in a timely fashion. But perhaps the biggest talking point this week is that Neymar loves a good lie-down with his time spent flat on his back clocked at 14 minutes since the tournament started. Let's see what trended in Convosphere's local markets.
Good manners cost nothing – Japan
It seems the manners of the Japenese football fans not only rubbed off on other supporters but also the teams. Despite losing the game to Belgium, the Japanese fans were highly appreciative of the Belgian team's good sportsmanship.
日本対ベルギー戦
日本敗戦、試合後のベルギー選手達。

仲間と喜ぶのかと思いきや、
真っ先に日本代表選手の元に。
本当に良い国。
良い選手なんだなって思ったよ。
ベルギー優勝してくれ。#ワールドカップ #決勝トーナメント1回戦 #日本対ベルギー #日本代表 #ベルギー代表 pic.twitter.com/SmTbdEva5A

— な お く ん?? @真城里帆さん (@aksb_rihochan) July 2, 2018
"Japan vs. Belgium. Belgian players after Japan got defeated. Thought they were going to share their joy with their teammates, instead, they came straight to Japan team. Really great country. I felt that they are great players. Belgium, please win the championship. #WorldCup #Final16FirstGame #JapanVsBelgium #JapanTeam #BelgiumTeam"
The phantom fan – Brazil
Thanks to the World Cup cameramen, this intense Brazilian fan has found fame as a viral sensation. Dubbed the Hexa Psychopath, he's said to curse anyone who gets in the way of Brazil's march to a sixth World Cup title.
O craque do jogo foi:
( ) Neymar
( ) Firmino
(X) Psicopata do Hexa#BRAMEX pic.twitter.com/2SjOUgRAP8

— cristian neymarzete (@cristianbfr) July 2, 2018
"Who was the best of the game:
( ) Neymar
( ) Firmino
(X) Hexa Psychopath"
The unwarranted nickname – Spain
Despite being hailed as an immovable trunk, goalkeeper De Gea could not stop Spain's exit at the hands of the host nation in a penalty shootout. In fact, it was the Russian goalkeeper Akinfeev who proved the hero of the night.
USA TRUNK vs SPANISH TRONCO #Rusia2018 pic.twitter.com/ORQ2tAnOI2

— USAvsSPAIN (@USAvsSPAIN) July 1, 2018
Like father like son (like WHAM frontman) – Sweden
There's no denying the striking resemblance of the Danish father and son goalkeeping duo. Now, this football newbie might have added a new member to the Schmeichel clan, even if there is some confusion about the spelling.
Jag vet inte jättemycket om foppåll, men jag har lärt mig att Kasper Schmeichel är son till Peter Schmeichel och att han således är brorson till Geord Schmeichel (RIP). #WorldCup2018 pic.twitter.com/P32FSWbmvg

— H k a n (@Mr_K_Twig) July 1, 2018
"I don't know a lot about football, but I have learnt that Kasper Schmeichel is the son of Peter Schmeichel and that he's, therefore, the nephew of Geord Schmeichel (RIP)."
The royalties are coming home – UK
It seems Skinner and Baddiel's Euro '96 anthem holding two spots in the UK's top 10 music charts is getting on the nerves of some England fans, with this among one of many creative memes expressing their annoyance. We're not sure the composers of the tune mind that much. Kerching!
God bless the internet for this… #ENGCOL #WorldCup pic.twitter.com/NBoPeCtgET

— Alex Littlefield (@A_Littlefield) July 3, 2018
Meanwhile, outside the Twitterverse in Asia, it was all about Neymar…
In Vietnam…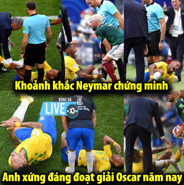 "The moment Neymar proved he deserved an Oscar this year."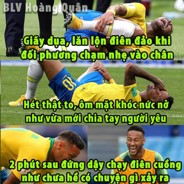 "Rolling in agony when his shin got lightly stepped on. Screaming, bawling his eyes out as if he just broke up.
2 minutes later: running around like nothing ever happened."
…as well as in China.
"Neymar has fallen and rolled around on the ground for around a total of 14 mins during the World Cup,
analysed by French sports media RTS."
With the meat of the tournament now upon us, our next update will be when the champion has been crowned. The Convosphere team are keeping their fingers firmly crossed for our home nations – Brazil, Sweden and England!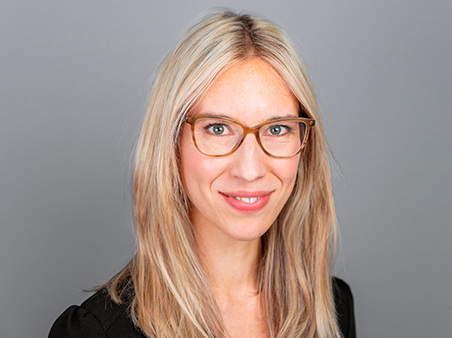 With a background in PR, communication and journalism, Moa heads up Convosphere's content marketing, blog and social media channels.
Before joining Convosphere, Moa worked as a PR and brand consultant for agencies including The Future Laboratory, LS:N Global, Canvas8 and Stylus, with a focus on packaging, retail and technology trends in the UK and Scandinavia.