Author: Debasish Sarma
It was on my commute to Convosphere's Bangalore office a couple weeks ago that I spotted something unprecedented in the entertainment industry in India: a giant billboard for the Netflix series Sacred Games. While billboards for Bollywood blockbusters are commonplace in India, this form of marketing for an OTT (Over The Top) production on a streaming service is very rare. That the series is in my native language Hindi only added to the allure – I was hooked.
Breaking into India
Created by acclaimed directors Vikramaditya Motwane and Anurag Kashyap, the series is thought to be among the first in a range of new content by Netflix targeted at the Indian market. It follows the company's model to create niche and localised content to grow its international audience.
Originally launched in January 2016, Netflix India initially generated a strong buzz, mainly thanks to its status as a household name in the West. However, some key factors prevented Netflix from sustaining the interest.
Its limited offering of regional content: with the exception of millennials, Indian viewers are typically not receptive to foreign content.
Its premium price tag: at the higher end when compared to its Indian competitors, Netflix's pricing has put off Indian subscribers. At $7 – $10/month, it is considerably more expensive than Hotstar, which charges around $2.50/month.
Its lack of sports content: in a country where cricket is close to a religion, Netflix lags behind competitors when it comes to sports broadcasting rights.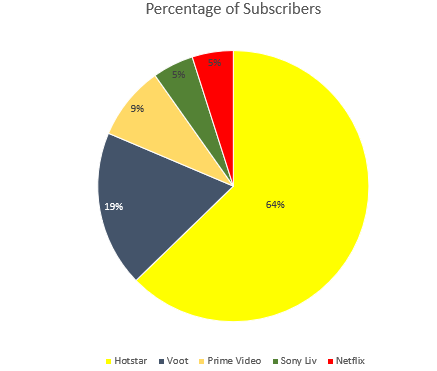 The appeal of local content
Where Netflix struggled to deliver, its competitors fared better. Dominating the field, Hotstar is, thanks to its access to TV channel Star India's content, able to offer subscribers popular regional content. Soap operas, for example, are a major draw in India and among the top streamed content on the platform. Furthermore, its exclusive broadcast rights to the Indian Premier League cricket tournament has undeniably helped establish Hotstar's popularity. Similarly, Voot has won over Indians with their game shows, including Roadies and Splitsvilla.
Cultural references and memes
In a bid to catch up with its local rivals, Netflix's focus has been to make their US hit shows relatable to Indian viewers. A part of this strategy is promoting these with the help of Indian celebrities and witty sketches and memes that resonate with the local audience.
Hey @abishmathew! Got some fries with that mistake? #Narcos #TryThisAtHome pic.twitter.com/uxs7bHxqDX

— Netflix India (@NetflixIndia) January 1, 2017
As a further step, the company has also adopted a localised communications strategy. This is particularly evident in Netflix India's "Indianised" interaction with viewers on Twitter, which is partially in Hindi and often features cultural references.
Borivali se leke Byculla tak sab ko pata chalega ki Mumbai mein ek naya bhai aaya hai.

— Netflix India (@NetflixIndia) July 5, 2018
Unexpectedly, the Mumbai and Bangalore police services also helped spread Netflix's name through their use of memes from popular crime shows on the streaming platform, to drive home messages about law enforcement.
Roses are red
Violets are blue,
Heard you're selling drugs,
We'll come visit you. pic.twitter.com/z5DIsngG7B

— BengaluruCityPolice (@BlrCityPolice) May 18, 2017
The game changer
But while all these efforts and activities have contributed to the steady growth of the Netflix brand in India, it seems the launch of Sacred Games has been the real tipping point. Mentions of Netflix on social media were up by a staggering 2065 percent two weeks after the release of the series, largely fuelled by scene specific memes from the show created by Netflix.
Oh so you'll remember that friend only when a new show is out, is it? #SacredGames pic.twitter.com/T3UVPBgCPc

— Netflix India (@NetflixIndia) July 6, 2018
When you look at your phone and realise you have 17 missed calls from mom. #ScaredGames pic.twitter.com/mDfQbQVmRC

— Netflix India (@NetflixIndia) July 17, 2018
Whether the strategy of customising content and communications for regional audiences will be a long-term recipe for success for Netflix India is a case of wait and see. But if the recent upturn in social media conversations surrounding Netflix among the country's 500 million internet users is anything to go by, it's safe to assume the entertainment giant is on the right path with productions such as Sacred Games.
For someone growing up in a household where omnibus soap operas with repeated plot lines were the preferred form of entertainment, I was ecstatic about the release of Sacred Games and devoured all the eight episodes in no time.  I, and millions of my countrymen and women, can't wait to see what binge-worthy production Netflix India will release next.