Last Sunday was the final of the 18th Asian Games, also known as ASIAD. A regional Olympics, the pan-Asian multisport event received widespread coverage across the globe. Here in Vietnam, the buzz revolved our football team being the first Southeast Asian country to make it to the semifinal at these games. Yet, as a gamer, I was far more interested in the debut of eSports as an officially sanctioned Olympic event. This time around, it was purely for demonstrative purposes to whet viewers' appetites for the Asian Games in 2022 when eSports will feature as a real event. But, despite the lack of medals, the inclusion of eSports undeniably helped boost the appeal of ASIAD 2018 among viewers, whether gamers or not.
With revenue expected to hit $1.65bn by 2020, eSports is a booming industry. In terms of advertising and sponsorship, brand investment in eSports has witnessed a surge of 48 percent since 2017, confirming that the sector is considered an exciting new opportunity for brands.
The qualifiers for the eSports demonstration event took place in June, and the final competitions ran from 26th August to 1st September. Most of the conversations came from tweets by gaming hosts, news sources, analysts and the players.
Event hashtags were most commonly used in Twitter conversations and helped drive buzz for the demonstration games. Teams, players and games hashtags were also popular.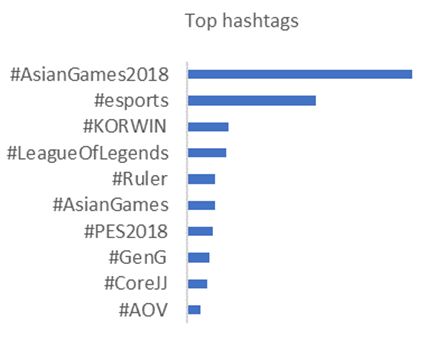 YouTube received the highest number of direct mentions of eSports among all broadcasting channels. Interestingly, the king of real-time strategy StarCraft II received more direct mentions than any other game in the demonstration.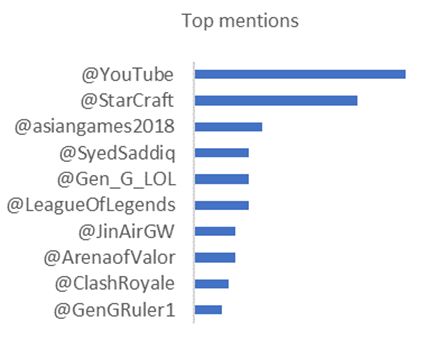 Based on the number of followers from relevant authors, the eSports demonstration event had an estimated potential reach of 441 million people globally. Besides news channels, which regularly reported on the eSport event, the most influential authors online were event officials, featured games and competing teams.
League of Legends, Pro Evolution 2018 (PES 2018) and Clash Royale generated most of the interest for PC, console and mobile platforms during the event. Despite the extreme popularity of gaming giant Blizzard's StarCraft II in South Korea, it was only the fifth most mentioned game.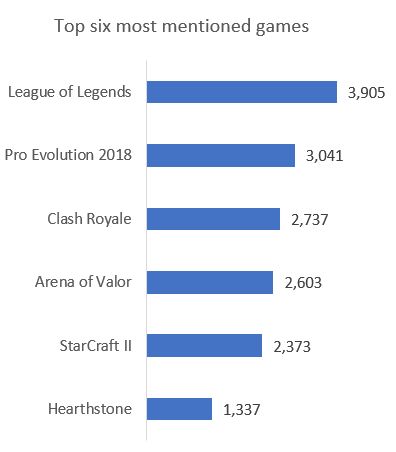 As expected, the conversation volume around the games peaked towards the end of August when the competitions were broadcast live.
Online viewers from a range of different countries contributed to the buzz, cheering for their favourite players and sharing the pride in their teams when winning:
Well played @gcttirth against #HongKong's kin from #Gujarat and fight for the #Bronze medal Hearthstone Esports at Asian Games 2018 #TeamIndia #IndianEsports #IndianEsportsAthletes #AsianGames2018 #historymade #DeshKeLiye #Hearthstone @narendramodi @YourStoryCo @etvgujarati1

— Daksh H. Mehta (@dakshhmehta) August 31, 2018
Congrats BenZerRidel of #INA

Gold Medal – Clash Royale, 2018 Asian Games Esports #AsianGames2018

— Yonanda Syafriade (@superyon) August 27, 2018
So much of success in esports can feel so fleeting, you can put your heart and soul into reaching the top and yet in a few months time the wave of competition can crash over you and your name will just be another addition to the wiki. With Asian Games holding true..

— mica (@colourlss) August 29, 2018
Damn sure our boys are gonna bring home GOLD in 2022.

With gaming/eSports becoming a medal event in Asian Games (& Olympics, perhaps), we're seeing the dawn of a new era in sports where it isn't just all about sweating anymore.https://t.co/gMZ4LiO2UK

— Vivek Tiwari (@realVivekTiwari) August 27, 2018
予選はCHNとKORが同じでLCKが全勝だったのね。で、もう一個は安定のTPEが全勝だったけど、SFでCHNに2-1で負けたと 2018 Asian Games – Leaguepedia | League of Legends Esports Wiki https://t.co/efHsXgXg7g

— レスター伯 (@LeicesterP) August 29, 2018
Translation from Japanese: "At elimination round, CHN and KOR were the same and LCK won everything. Taiwan won all the other one as usual, but lost to CHN by 2-1 at SF."
Historic moment for India as Hearthstone player Tirth Mehta wins the country's first ever Asian Games medal in E-sports. He came from 2 rounds down to defeat Vietnam's Tuan, 3-2. pic.twitter.com/TOrb77Hwkv

— Suromitro Basu (@Suromitro) August 31, 2018
The organisation and professionalism surrounding online gaming in the last decade have transformed it from something typically considered a pastime for adolescent males to a respected Olympic event, with the debut of eSports at ASIAD 2018 reflecting this shift. As our insights show, the trial run helped boost the status of eSports around the globe. Although it has been subject to criticism and calls have been made to reduce the inclusion of violent games in favour of sport-focused titles for 2022, teething pains are inevitable for such a fast-growing sector. Regardless of the game genre, my fellow gaming pals and I will be sure to keep a close eye on the upcoming developments for competitive gaming on the global sports scene.
What do you think eSports can do for brand recognition via event hosting and sponsorship? Please share your thoughts and comments on our Twitter or Facebook.
If you want to take a closer look at the impact that eSports had on brand's social media, please don't hesitate to contact us.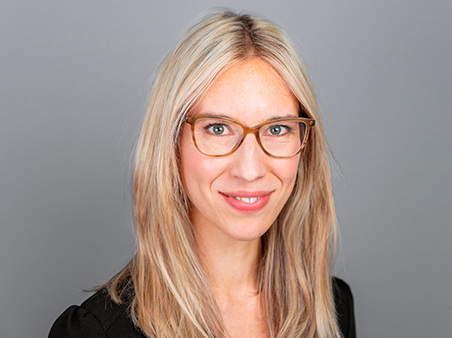 With a background in PR, communication and journalism, Moa heads up Convosphere's content marketing, blog and social media channels.
Before joining Convosphere, Moa worked as a PR and brand consultant for agencies including The Future Laboratory, LS:N Global, Canvas8 and Stylus, with a focus on packaging, retail and technology trends in the UK and Scandinavia.