In the Country Spotlight series, we focus on how human-led social listening can help businesses gain invaluable market-specific insights into consumer behaviour, cultural nuances and digital trends to identify and connect with local target audiences.
Spain, a vibrant country known for its rich culture and diverse population, is an essential market for brands eyeing international expansion. With a robust economy and growing consumer base, this European nation is actively investing in innovative tech, and has laid out a plan to further enhance connectivity, cybersecurity and the use of artificial intelligence as part of its Digital Strategy 2026 roadmap. From emerging consumer trends to unique digital behaviours, this blog post explores what brands need to know as they delve into Spain's market dynamics and assess the potential of this region.
Demographics and Digital Behaviour at a Glance
Demographic and Regional Considerations
With over 43.9 million internet users and a population of more than 47 million people, Spain is an important market for global brands looking to expand their reach. It has a diverse demographic profile with a large youth and lower middle-age population that skews towards the 16-44 age bracket. Additionally, Spain is one of the most culturally diverse countries in Europe with five different languages and many different dialects spoken across its 17 regions. This makes it essential for brands to be mindful of regional variations, both when it comes to conducting social listening to gain consumer insights and crafting marketing messages and campaigns, as each region has its own unique culture, dialects, and preferences.
Trends in Social Media Usage
When it comes to social media usage in Spain, Facebook dominates with an estimated 20 million active users, equivalent to 43.2 percent of the total population. According to DataPortal, YouTube is also popular with approximately 40 million users, followed by Instagram (22.8 million) and Twitter (8.7 million). Meanwhile, TikTok has been gaining traction among Spanish users recently as well as WhatsApp which has become increasingly popular for business communication purposes.
Small but Vibrant Communities on Forums
Online forums remain a relatively popular platform for communication and information exchange in Spain, with users engaging in diverse discussions. Recent statistics indicate that approximately 13% of Spanish internet users engage in active participation within online forums. Although this figure has decreased significantly over the past decade, it still underscores the unique value that this platform offers, namely the opportunity for internet users to interact anonymously with fellow members, particularly when discussing sensitive topics. These forums serve as valuable spaces for sharing knowledge, seeking advice, and building communities across various topics, contributing to the vibrant online culture in Spain.
Anonymity and Free Expression on Divisive ForoCoches
One of the most prominent forums in the country, ForoCoches (ForumCars) was originally established to facilitate discussions related to the automotive industry. Over the years, it has evolved into a messageboard and now boasts a user base of 700K. While the forum has gained notoriety for its controversial and provocative content, it serves as a platform where individuals can freely express their thoughts and engage in discussions that might be considered taboo or socially unacceptable in mainstream channels. By providing an anonymous space for expression, ForoCoches attracts a diverse range of voices, allowing researchers and analysts to gain a deeper understanding of societal attitudes and subcultures that may otherwise remain hidden. Despite its divisive nature, ForoCoches offers an opportunity for social listening to uncover perspectives and shed light on the complexities of human behaviour.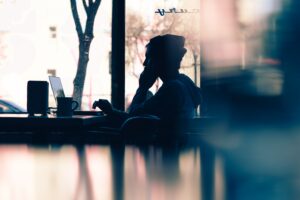 Digital Behaviour – 3 Key Areas to Keep an Eye On
Ecommerce: The Speedy Uptake of Digital Shopping 
The fast growth of Spain's ecommerce industry is showing no sign of abating. According to recent statistics, 51.2 percent of the Spanish population shopped online in 2021, compared to 42.1 percent just two years prior in 2019. This drastic increase is indicative of a larger domestic trend towards digital shopping. It is expected that by the end of 2024, 70 percent of Spaniards will be using some sort of ecommerce solution.
This shift towards online shopping among Spanish consumers experienced a boost during the pandemic period when physical stores were closed or had limited capacity due to health regulations. In fact, the lockdowns imposed throughout the country accelerated a multitude of changes in consumer behaviour with the increased popularity of online and omnichannel shopping among one of the most significant. With the fast ecommerce expansion, brands need to prioritise their presence on digital platforms. And it's not just about a building a profile and ensuring availability online; in order to reach a wider audience, build trust, boost sales, stay competitive, and provide convenient and seamless experiences for their customers, brands need to listen to their target audiences and use consumer insights to invest in their digital and omnichannel presence accordingly and continuously. 
Streaming: Exploring Spain's Vibrant Twitch Community
Streaming has become one of the most common forms of entertainment in the country. According to Kantar, the number of households that used at least one video streaming service in Spain reached 66% in September 2022, ahead of markets such as Germany and the UK. Additionally, Spain is among the countries with the most Twitch viewers in Europe – with 6% of internet users using it more than once a day. But the nation isn't leading only in terms of consumption; it also produces the most popular Twitch Streamers in the world.
In fact, Spanish influencers and live streamers are the main contributors to the large Spanish community on Twitch, many of whom have become popular by streaming video games, esports, and creative content, such as art and music. Thanks to their high-quality content and active engagement with their fan base, they've all built a loyal following.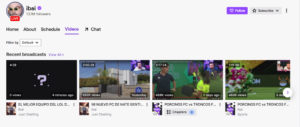 One of the key contributors is Ibai Llanos. The esports caster has created a dynamic and supportive community where gamers can collaborate and grow their own channels. These buzzing accounts can offer brands compelling new ways to engage with key target groups through sponsored content and product integrations. Like in any industry, developing an influencer collaboration strategy requires diligent research and careful consideration. Seeking advice from local market experts will ensure the right influencers for the specific brand and campaign goals are identified.
Digital Activism: Fighting Social Injustice Online
But digital behaviour and trends in Spain don't all revolve around entertainment. Political engagement is deeply ingrained in Spanish culture, with citizens passionately fighting injustices and supporting good causes. In recent years, Spain has seen a surge in political activism, with more and more people becoming engaged via online channels. This trend is particularly notable among younger generations, who are using social media and other digital platforms to express their opinions and mobilise others.
This increased activism is evident around causes related to social justice and equality. In particular, Spanish people are becoming more politically active around feminism, body positivity, LGBTQ+ rights, and mental health awareness. Although the common issues around these areas have long been recognised in Spanish society, recent global events and social trends have brought them to the forefront of public consciousness.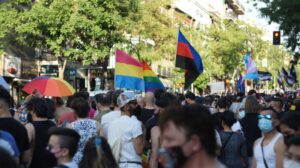 Navigating the Political Landscape
What does this digital activism and conscious consumerism mean for brands who want to connect with target audiences in Spain? The key is to be mindful of the political climate and avoid taking positions that may be perceived as divisive or controversial. In other words, brands need to do their homework and keep an ear to the ground before making any bold statements. Brands should be aware of the various political parties and movements in Spain, as well as their stances on important issues. Understanding these nuances through social listening can help better tailor messaging and avoid inadvertently aligning with a particular party or ideology.
How Brands Are Joining the Political Conversations
It goes without saying that campaigns or messaging should match the values and beliefs of the target audience. By listening to and engaging with consumers in a meaningful way, brands can build trust and loyalty, while also contributing to important social and political conversations. Here are a few examples of where brands in Spain have got it right:
Cabify: Controversial Ad Sparks Debate on Privacy and Politics
In September last year, Spanish private hire platform Cabify published what it claimed to be passenger data of Catalan politicians in an advertisement attempting to undermine the Catalan Parliament's Decree Law regulating Cabify, Uber and other private hire platforms. Approved in the summer of 2022, the legislation restricts the VTCSs of Catalonia to approved automobiles and passenger vans, and was strongly criticised by private hire companies who argued it would cost thousands of jobs in Catalonia. Cabify's message, "The same politicians who do not want you to use VTC have made 5,437* trips on Cabify", with the asterix clarifying that these trips were "from/to the Ministry of Transport in 2022", left no room for misinterpretation. The bold statement sparked controversy with critics expressing concern about Cabify potentially breaching Article 13 of GDPR through their use of passenger data. Of course, this only helped Cabify achieve the likely intention of the ad; going viral and kicking off a debate about civil society, politics and economic stakeholders.
View this post on Instagram
Wallapop

:

Embracing the Circular Economy
Spain's number one second-hand marketplace, Wallapop, has launched several campaigns on social issues close to their heart. Their latest campaign "lo hecho, hecho está" ("what is made, is already made") emphasises their stance against fast fashion, with the key message that reusing an item is always a more sustainable option than making a new one. Collaborating with local influencers who embrace circular economy, the campaign pays respect to brands, including Levi's, Lexus and Miele, that prioritise quality over quantity. Wallapop teamed up with environmental activists Carlota Bruna and Jon Kareaga, as well as online influencers Mara Jimenez and Alan el Ruedas, known for their calls for diversity in the fashion industry, to get their message across. In addition to broadcast media, this omnichannel campaign is also running on TikTok and Instagram, with influencer accounts acting as a bridge between the brand and its target audiences of environmentally conscious consumers.
Pronovias: Bridal Brand Champions LGBTQ+ Rights
Since 2020, the Spanish bridal and evening wear company has been running social media campaigns built around its tagline #LoveIsLove to acknowledge and celebrate the LGBTQ+ community in an industry that is otherwise shaped by heteronormativity. In addition to these consumer-targeted activities, the company has publicly spoken about  internal research initiatives to better understand their perceptions and sentiments around sexual and gender diversity within their workforce. As communicated in their 2021 annual report,  the brand's devotion to inclusivity is a core part of the brand's mission and vision.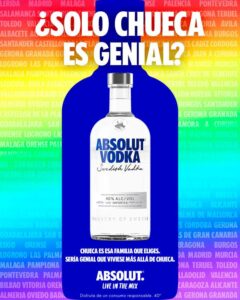 Absolut Vodka: Celebrating Chueca Neighbourhood and Breaking Barriers
For the 2022 Pride Parade in Madrid, Swedish spirits brand Absolut launched the campaign "¿Solo chueca es genial?" ("Is only Chueca awesome?"). The campaign centred around the talkshow, "Chueca es genial: El debate", hosted by the winner of Drag Race España 2022, Sharonne. The show aimed to celebrate Chueca, the vibrant and diverse neighbourhood in the Spanish capital, which has proven a well-loved destination for the LGBTQ+ community. The goal of the campaign was to boost the popularity of Absolut Vodka beyond the Chueca neighborhood and the Pride celebrations. In addition to driving awareness of the brand, the campaign also sought to call into light and bust preconceived ideas of the brand and prejudice towards marginalised groups. The line-up of guests featured on the show included high-profile LGBTQ+ personalities, including influencers Henar Álvarez, Topacio Fresh and Aléx de la Croix. The video on YouTube generated more than 400 comments, mostly positive, from viewers sharing their experiences, opinions on pride celebrations, and expressed their support for the LGBTQ+ community.
Unlocking Success in the Spanish Market
A comprehensive understanding social media trends, consumer attitudes and digital behaviour in Spain is fundamental for any organisation looking to capture the attention of Spanish people. When it comes to social media, brands should focus their efforts on the four main platforms – Facebook, YouTube, Instagram and Twitter – while also keeping an eye out for new trends such as those seen with TikTok or WhatsApp, which are becoming increasingly popular for business communication purposes. Additionally, in light of the booming ecommerce space, brands should carefully plan their investment in this space, and develop an intuitive and harmonious omnichannel presence. Savvy brands have a lot to gain by tapping the potential of the bustling streaming industry. And finally, taking strategic stances on political issues may seem like a no-go marketing move, but, when done the right way, speaking up and championing change can help build lasting relationships with customers. 
We're here to help
Without listening and learning from Spanish consumers through market research, such as human-led social listening and audience segmentation, attempts to connect with target audiences in Spain will be futile. Convosphere can help your brand break into new markets or expand in existing ones by leveraging their expertise in social listening and digital research. Insights gathered through these methods, led by an experienced team of insight analysts, are invaluable for brands as they provide a deep understanding of consumer behaviour, preferences, and market trends. This knowledge allows brands to tailor their strategies, messaging, and offerings to effectively engage and resonate with the target audience. 
Get in touch!
With our global team of in-country analysts – native in the local language, culture and social media – we go beyond hard numbers to deliver the most accurate and actionable insights and recommendations to future-proof your brand. If you need support to tailor your strategies, messaging, and offerings to effectively engage and resonate with target audiences in Spain, speak to us today.