In this blog post, you will find out why going beyond the traditional In-House versus Agency Outsourcing dichotomy and trying out Convosphere's hybrid approach will allow brands to realise the full potential of social listening and social media intelligence.
In the last few years, we've witnessed how the widespread view of social media intelligence has transformed from "an optional add-on" in a market research project, or simply synonymous with social monitoring, to a recognised and respected discipline in its own right. But although an increasing number of businesses discover the potential social media intelligence has to offer, many are still not realising that potential to the fullest. Why? Based on our experience and conversations with prospective and existing clients, it often boils down to a lack of understanding of social media intelligence and what can be done with it.
In considering how to leverage social media intelligence platforms – whether Brandwatch, Talkwalker or Netbase  – they often assume there are only two usage models available: In-House and Agency Outsourcing. So what do these two models look like? And what leads a business to pick one over the other?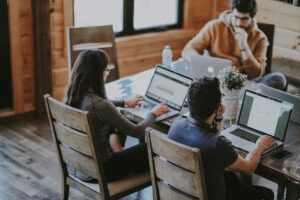 In-House: Doing it yourself
In these cases, the decision-making stakeholders of the company have realised that social media intelligence is a must-have for any forward-thinking business. They've done their research, assessed the alternatives and eventually agreed on and signed up to a social listening platform. So far, so good. There are many different options available and, as we've covered in previous posts, finding the right platform for your business needs is easier said than done.
Yet this is where some go wrong. Because, while handling social media intelligence endeavours in-house can be the right solution for some, many businesses make the mistake of assigning the task to a junior member of the research team instead of hiring an analyst with wide experience in social media intelligence. Although the tools offer training and support, these alone are rarely enough to equip an employee who has limited exposure to social listening technology with the skills to deliver ground-breaking new social insights to answer key business questions. Besides a shortage of required skills in the team, here are some other common issues with the in-house approach:
Staff bandwidth:

Do you have enough people? Is your team available to carry out social media intelligence projects, or are they too busy with their primary duties to dedicate the time needed to turn the data into insights?

Language and cultural coverage:

Does your team have the cultural familiarity and linguistic capabilities to carry out social listening in foreign languages and geographic markets?

Department ownership: Who exactly 'owns' social media listening? Is it PR? Is it Market Research? Are there overlapping needs which are being duplicated by each? If these questions are hard to answer, there's a high chance the research efforts are not put to their maximum potential.
Agency Outsourcing: Turning to the specialists
Another common scenario is that the business recognises that the work has to be carried out by external specialists. Perhaps they've arrived at this conclusion after realising the shortfalls of the DIY approach, or they've always thought of it as something best left to the experts.
For many others, the reasoning behind outsourcing market research, regardless of its kind, is because that is how it has always been done – it's standard business practice. Relying on an outsourced social listening team to effectively interpret data into actionable insights is often the logical option. After all, it frees up time for the business to focus on its strengths. Yet there are things to take into consideration:
Financial matters

:

Is there room in the budget? It can be tempting to pick the cheapest agency but ask yourself how they can afford to undercut their competitors.

Expertise

: Can the agency relate to your business goals and strategic objectives? Consider if the agency has the required understanding of your product and market needed to carry out the research, accurately interpret results and help drive real business decisions. 

Chemistry, comms and trust

: Do you feel comfortable handing over the project tasks to the agency team? Just like you as a client need to communicate their needs and expectations clearly, the agency needs to be clear about their ability to deliver the work requested.
The Hybrid Option: Cherry-picking the best aspects of In-House and Agency Outsourcing
There are pros and cons with both of these approaches and it can be daunting for a business to make an informed decision with all the contradictory information and bold claims circulating online. We get it. The good news is that, thanks to the way Convosphere operates, companies have options beyond the In-House versus Outsourcing dichotomy.
As an agency with years of experience in helping businesses across industries, with vastly different needs and expectations, we make it our top priority to establish strong relationships with our clients. These are built on trust and mutually agreed, clear definitions for success.  Although many clients prefer to outsource all their social media intelligence activities to us, we have noticed a growing desire among some of our customers to maintain ability and expertise while expanding their internal resources.
This is where the third option comes in. Rather than limiting clients' choice to either In-House or Outsourcing, we allow them to cherry-pick the best from both sides of the aisle. We'd go as far as to argue that this hybrid solution can be more beneficial to companies as it not only generates assets but also improves their capabilities and skill set.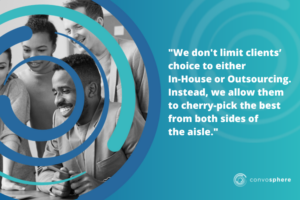 Teaching the client how to realise the potential of social media intelligence
In these hybrid model cases, we are not doing it all but rather empowering clients to do the work better; it's not about giving someone a fish, but teaching them how to fish. For example, instead of asking us to deliver a complete report, the client seeks our support in building queries on their social listening platform of choice, in close collaboration with them. The client will then do follow-up reporting based on the queries and templates we've built for them.
One of our clients that utilises this method is a renowned beverage company. With a presence in virtually every market across the world the company runs hundreds of local market campaigns simultaneously. To enable them to more accurately measure the performance of each campaign, we collaborate with the client's team on two key steps:
Developing Boolean queries for the global campaign

: The client's team writes the base Boolean queries in English; Convosphere's multilingual analyst team localises the queries, directly in the client's social media listening tool, in over 40 languages.

Developing Boolean queries to measure the impact of the global campaign

: In close collaboration with the client, Convosphere's team builds out 5 standard 'topic' queries to be used to measure impact for all campaigns, with the flexibility to uncover the so-called unknown-unknowns, and localising for markets all over the world to ensure consistency.
Empowering brands to leverage their strengths
This hybrid approach comprises three key areas where our skillset, flexibility and attentiveness to the client's need can help set them up with the capability to take more control of their social listening and digital research endeavours. 
Training

: Teaching client teams to write their own and improve existing Boolean queries to optimise the result.

Program design

: Building a social media intelligence program, including scoping, template design, queries and execution with the intent to hand it over to the client.

Staff augmentation

: Provide temporary staff in the form of members from our team to fill in the gaps in social media intelligence bandwidth.
In some cases, the intent of this work is to leave behind capabilities and assets – including, but not limited to, Boolean queries, search structures and report templates – that will provide value long after our engagement has ended. In other cases, the hybrid approach might form part of a long-term flexible partnership with us, whereby Convosphere is available for check-ins with the client to, for example, help update queries so that they stay relevant bearing in mind emerging trends impacting the client's product space and market.

Get in touch to learn more about our agile social media intelligence solutions
If you would like to find out more about how your brand could benefit from the hybrid approach to social listening, don't hesitate to contact us today. We'd be delighted to talk to you about how our flexible team can leverage your strengths, ensure better ROI and fortify your social media intelligence endeavours.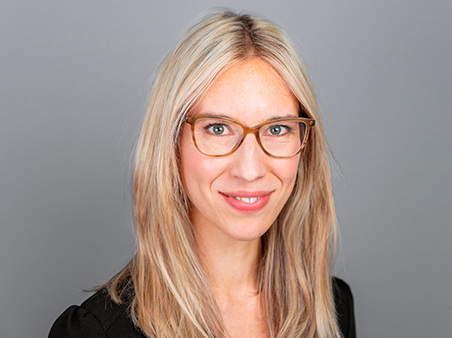 With a background in PR, communication and journalism, Moa heads up Convosphere's content marketing, blog and social media channels.
Before joining Convosphere, Moa worked as a PR and brand consultant for agencies including The Future Laboratory, LS:N Global, Canvas8 and Stylus, with a focus on packaging, retail and technology trends in the UK and Scandinavia.