In getting ready for my big move to London from South Korea last year, the first thing on my packing checklist was my skincare products. It might seem odd as I was hardly moving to the middle of nowhere, but I decided to bring with me the following:
Ten chemical free facial soaps
One cleansing oil
Two facial essences
Two ampoules
Two toners
Three organic oils
Two lotions
Because, while London may be the perfect opportunity to try out the most desirable luxury beauty brands, I had put far too much research into finding these products to leave them behind.
To learn about the latest beauty trends and other beauty fans' likes and dislikes, I regularly turn to beauty forums online. Korean beauty consumers spend a lot of time (and money!) on beauty treatments and products, and the communities are the perfect environment to share and source information and stories about personal experiences.
Among the many things discussed in these forums lately, 'SooBooJi (수부지)' has caught my eye. The abbreviation for 수분 부족 지성, which literally translates into 'oily skin lacking moisture', SooBooJi is the perfect definition of skin like mine. Oily is the typical way to describe a skin with heightened sebum production. But whereas most skincare products for oily skin focus on controlling sebum production, the SooBooJi skin type needs more sophisticated care for hydration, skin flake care and sebum control. It's clear that SooBooJi has managed to find a gap in the market; I'm far from the only one who's impressed by the new formulas developed around the groundbreaking definition.
As the following social media conversation graph around SooBooJi in South Korea shows, mentions of it increased tenfold from 2016 to 2017.
Conversation Graph of SooBooJi (Jan 2016 – Jan 2018)
Due to the emergence of this unprecedented skin type definition, consumers were eager to learn more about SooBooJi and experiment. This offers a great opportunity for beauty brands to target consumers with SooBooJi related information, while delivering branded messages to lead sales conversion.

"I am SooBooJi too. I think the SooBooJi skin type should not skip basic skincare products, such as essence, serum, lotion, etc even in summer even if skin gets oily.
It is most important for SooBooJi to hydrate skin from deep inside."

"Please recommend cushion compacts for SooBooJi skin."

"To any question regarding SooBooJi skin, the answer is just skincare. By the way, I like Innisfree My Foundation."

"Is there a good foundation for SooBooJi?" ;(

"I suffered a lot because of SooBooJi skin. But recently I found a really good lotion which was adjusted for SooBooJi skin and it makes me really happy."
Diving deeper into the data, I examined which brands took advantage of this trend to develop relevant marketing campaigns.
Kiehl's
Kiehl's was the most mentioned brand associated with SooBooJi. In collaborating with a beauty channel on YouTube, and implementing SooBooJi hashtag in their social media content, Kiehl's Korea has successfully promoted their free in-store skin consultation. By doing so, Kiehl's has managed to expose their brand and services while catching the eye of those curious about the SooBooJi trend.
A'PIEU
Korean cosmetic brand A'PIEU even developed a product line for the SooBooJi skin type. Because of the product name, 'Soo Boo Ji', it's easy to distinguish amongst other lines. This makes it attractive to those with SooBooJi skin who want to explore new treatments but are unfamiliar with the product offering. Furthermore, in developing this type of product, A'PIEU shows that they listen to consumers' opinions and cares about meeting their needs.

"A'PIEU Soo Boo Ji Foundation. It's for SooBooJi skin type, moisturised inside, but matte outside. I replaced Revlon Foundation with it because I felt Revlon is too matte. No more feeling tight with A'PIEU. The extremely bright colour is a drawback though."

"A'PIEU Soo Boo Ji is really good. I applied it at 1 o'clock and I don't get as oily anymore. Long lasting."

"I choose A'PIEU Soo Boo Ji, because my skin is SooBooJi."
LANEIGE
South Korea-based LANEIGE, the third most mentioned brand, created a series of video clips featuring the famous actress Sungkyung Lee as part of their new SooBooJi product line launch. The videos, promoted on social using the #SooBooJi hashtag, answered consumers' questions about the SooBooJi skincare routine and types of products to use, which generated a positive buzz.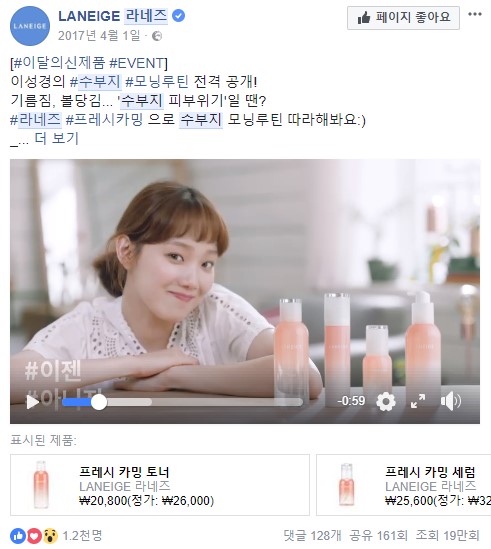 "This month's new product and event. This is Sungkyung Lee's morning skincare routine for the SooBooJi skin type.
If you have oily skin and tight dryness, follow the SooBooJi morning routine with LANEIGE Fresh Calming products."
Likes: 1.2K, Comments: 128, Shares: 161, Views: 19K

"Oh, quite a lot of products are being launched for SooBooJi skin"

"This product is for me! I am going to use this!!!"
In order to develop the right marketing strategy, brands in the beauty industry must stay in the know by following and learning from consumers' conversations. Brands that leverage consumer-generated product reviews, findability based on keywords, and search engine optimisation, will stand a much greater chance of attracting new customers.
Additionally, the cultural characteristics of consumers in South Korea makes it even more important for brands to firmly keep their finger on the pulse. As South Korea is a collectivist society, consumers are likely to rely on information sources, typically family and friends, and may even look for peers' approval. This tendency to consider the preference of others as part of decision-making means news and events can go viral in no time. Using social listening can help brands stay one step ahead and efficiently make use of emerging trends and movements.
For me personally, SooBooJi has not only helped me better understand my own skin, but also saved me money since I can finally put an end to my search for the perfect product. As I'm yet to find SooBooJi products in London, I'm currently awaiting my first top-up of SooBooJi hydrating creams, toners and facial mist delivered straight from South Korea. It's like Christmas come early!